Product Description
Details
The VRSF FMIC was designed to be one of the best performing direct bolt on intercoolers available on the market. The VRSF intercooler features 3D CAD designed cast aluminum end tanks for improved flow over sheet metal end tanks & durability. We use a custom bar & plate intercooler core featuring a custom fin pack designed to our exact specification which we've developed over the past 9 years with great success on our Evo & DSM platforms.
Our 5 & 7" intercoolers allow for higher HP gains, mainly due to their ability to keep intake temps down while preventing heat soak which is a common problem with the factory intercooler. This results in a more power and increased reliability with reduced chances of pre-detonation & knock. The VRSF intercooler also features tabs that allow the retention of the factory fan shroud and an additional set of mounting hardware for extra support. We include all necessary custom molded couplers and stainless steel t-bolt clamps necessary for installation.
The 5" stepped core unit may not require trimming of the black plastic shroud (minimal trimming on some models) & the 7" requires trimming of the black plastic shroud behind the bumper. The bumper does not require trimming on either models. Each VRSF intercooler is hand finished and pressure tested to ensure a high quality, leak free experience.
Dimensions: 7" - 20x5.75x7.125" / 5" - 20x8x5"
This item fits the following BMWs:
2007-2011 E90/E91/E92/E93 BMW 335i/xi
2011-2012 E92 BMW 335is
2008-2010 E82 BMW 135i
2012-2015 E84 BMW X1 35i
2009-2015 E89 BMW Z4 35i
Note: Fits both Left Hand Drive (LHD) & Right Hand Drive (RHD) Models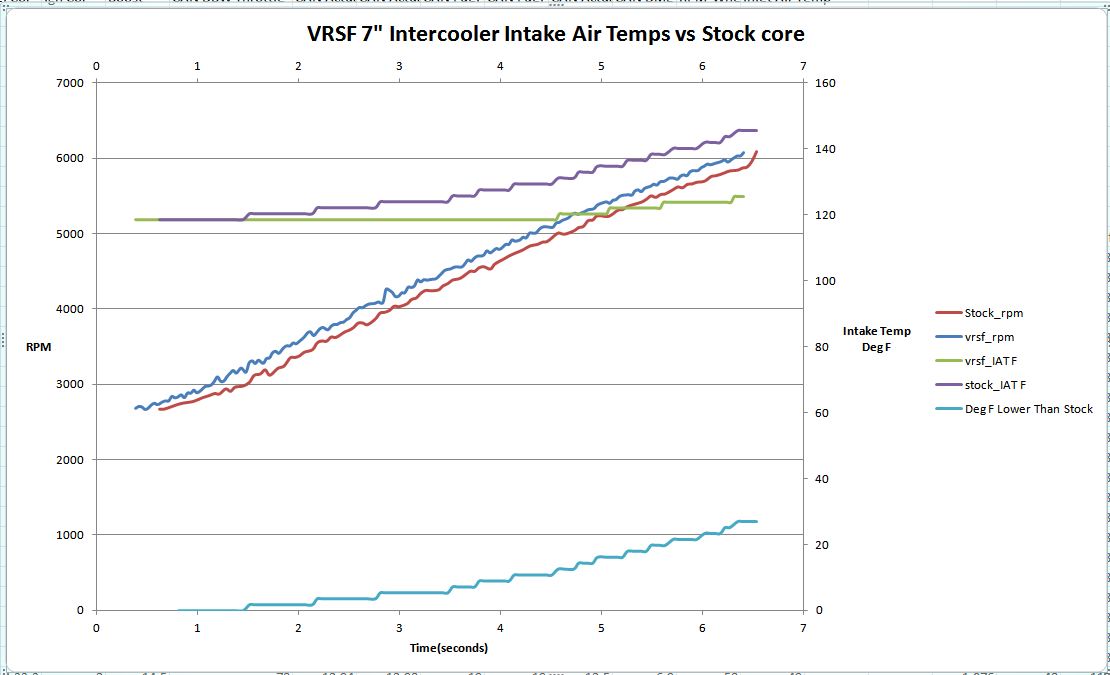 Reviews
Nicely built intercooler

Review by

335imax

A very solid, and well built intercooler. Weld spots are very clean and tight. Aside from not coming with any instructions on how to install it, I would have given it 5 stars. Having to figure out exactly what to modify to get this installed was my only issue. (Posted on 3/31/15)

Fits like a glove!

Review by

Tony

Ordered the 7" FMIC and shipping was extremely fast, got to me next day. Had it installed by my BMW technician and we were both impressed by its fitment and how it lined up perfectly! Definitely recommend VRSF and all of their products! (Posted on 2/27/15)

+1 from a happy customer!

Review by

AWD Addict

As a new (1 day old) user of the 5" stepped IC, I can vouch for VRSF as a vender, and for the quality of the product. fins were nice and dense, and all in order, and the welds on the tanks looked nice and even. Product so far is working nicely.

So +1 from a happy customer!

dR

http://www.e90post.com/forums/showpost.php?p=16676332&postcount=629 (Posted on 9/23/14)

Great New Intercooler option

Review by

TOTAL

My car has active cruise, so it was very important for my needs that I find an intercooler option that required no modification to stock bumper and still maximized core size with available space. The new 5" stepped core fit the bill. Very easy to install too.

Performance is stellar. Even in 90+ temps in back to back dyno pulls, iat only creeped up. At cruising speeds, iat is 5*-10* cooler than stock, and at the end of multi gear pulls, the delta between stock performance is night and day @ 40* cooler intake charge!
(Posted on 7/29/14)

Wayyyy better than the previous FMIC I had...

Review by

iuhutch

VRSF 7" install was way easier than the previous 5" even with the bigger size. Cut bottom shroud she went right in! +1 on the couplers, wayyyy better than the previous FMIC I had...

http://www.e90post.com/forums/showpost.php?p=16302673&postcount=26 (Posted on 7/16/14)

Happy camper and extremely happy with the switch

Review by

m4xm1l10n

Let's start off by saying that I couldn't be any happier with Tiago and the products with an extremely fast shipping time!

Recently installed the VRSF 7" FMIC & 3" Cat-less DP. First of all customer support from Tiago is simply greatness. Had a local shop in ATL install my DP and vehicle was in and out of the bay in hour and half, as the tech mention it was a breeze to install with simply zero issues, and holly crap did I pick up some seat of the pants TQ .

That same night in my garage I replace my 6" AA IC with the VRSF 7" and since the trimming was already done it was really a little over hour to install and make sure all was well and tight with a more Aggressive look from the front grill and also the couplers and clamps provided by VRSF are by far superior.

As for cooling the bigger 7" comes on top ( obviously is a bigger 7" IC ) specially during long high speed pulls confirming what TIAGO had stated. What I really like about the vrsf is how quick the IAT comes down after the vehicle is rolling from being stopped in traffic .

All in all I am a happy camper and extremely happy with the switch .

http://www.e90post.com/forums/showthread.php?t=955952 (Posted on 3/10/14)

Over all I am VERY happy with the product

Review by

aeilers

Just wants to give a little review of the product and install on my 07 E92 335i.

My VRSF DP came in the mail about 4 weeks ago or so and I finally got around to install them a week ago. Shipping was fast and everything was in order in the box when it arrived. The install is very straight forward. It did take me about 6 hours to be honest to install them. I used ramps and took my time during the install. The fitment was perfect, just enough space between the sub-frame and between the DP's themselves. Hardest part for me during the install was getting the clamp on the rear turbo and DP back installed and tight, other than that everything went just fine. Here is DIY video I used from youtube that really helped me out.

My VRSF 7 Inch FMIC was shipped to me just a few days ago. It was about a month wait for it to arrive since when I ordered it, but it was expected since they were on back order. The FMIC was boxed well and everything was in order when i was unpacking it. I installed this last night and have a OEM bumper. I also used ramps and did not remove the bumper, but it was tight fiting the FMIC in with the bumper on, recommend having a friend with you to help. Once the old intercooler is removed you will need to also remove the OEM rubber hoses too, which have a metal clamp that you will need to cut with a dremel. Its a bit tight to get to the clamp to cut but it can be done. Now the part that slowed me down was the trimming of the front shroud plastic. I first started slowly trimming it and test fitting, but after about a hour and a half I said screw it and cut the whole bottom half of the shroud out ( I recommend everyone to do that, saves ALOT OF TIME). Other than that install was easy and fit perfect.

Over all I am VERY happy with the product, I have not had much time to get my car on the road here in MN due to the cold and snow to really test it all out, but I will soon and will let you all know.

Thanks for reading and feel free to PM me if you have questions about the install.

http://www.e90post.com/forums/showpost.php?p=15537700&postcount=1 (Posted on 3/3/14)

It can't be beat!

Review by

BuellsterR1

For the money, it can't be beat. It comes with all gaskets, hardware, has a polished finish, and fits perfectly which makes installation a breeze.

With DPs, you also reap the benefits of a throatier exhaust note. Scaled, I would rate it a notch up from stock which is perfect for someone wanting a tab bit more without it being obvious to others.

Once you've had your fun with the DPs, look into getting an intercooler. I purchased the VRSF 7" intercooler and it rocked just like the DPs. IAT with the stock IC increase on average about 40 degress from 3rd to mid 4th gear. With the VRSF IC, average IAT were 18 degrees. I was also able to maintain target boost levels on the OpenFlash Tablet which I couldn't do with the stock IC. It was always 1psi lower throught the power band.

http://www.e90post.com/forums/showpost.php?p=15194844&postcount=7 (Posted on 12/30/13)

Impressed with the quality and fitment

Review by

e46m3to335i

I was pretty impressed with the quality and fitment of the VRSF unit.

http://www.e90post.com/forums/showpost.php?p=15110168&postcount=14 (Posted on 12/19/13)

Unbelievable!

Review by

Craig

I just installed the VRSF 7" as well. I'm very happy. Previously my intake temp rose from 120 - 152 degrees in one third gear pull.
I just logged after the install and my IAT only rose from 98 - 105 degrees!

Unbelievable! The second pull only rose from 100 - 105 degrees.
A Five degree rise versus a 32 degrees rise in one gear. I'll take that reduced heat soak!
The car continues to pull up top now whereas before, the quickly rising IATs were causing power loss.

http://www.n54tech.com/forums/showpost.php?p=282473&postcount=4 (Posted on 10/29/13)

I've got their 3" DP's and 7" FMIC - I couldn't be happier.

Review by

Moocow

I've got their 3" DP's and 7" FMIC - I couldn't be happier. Tiago has been a pleasure to deal with.

http://www.1addicts.com/forums/showpost.php?p=14848541&postcount=19 (Posted on 10/21/13)

Good, I've had it for over a year no issues!

Review by

jlcf22

Good, I've had it for over a year no issues!

http://www.e90post.com/forums/showpost.php?p=14800765&postcount=2 (Posted on 10/17/13)

Very good intercooler, install is no problem!

Review by

bmwm3redblack

I have an xi as well and it's very good intercooler, install is no problem. So go for it!!!

http://www.e90post.com/forums/showpost.php?p=14801469&postcount=9 (Posted on 10/17/13)

Switched from a 6" AMS to the 7" VRSF and definitely feel improvements

Review by

JYohay

I Switched from a 6" AMS to the 7" VRSf and definitely feel improvements.

http://www.e90post.com/forums/showpost.php?p=14803331&postcount=19 (Posted on 10/17/13)

It's works perfect

Review by

jbertino

I've been running it for about 6 months . It's works perfect . I had to really beat on the car to get my iat higher than 130 . And that was in 90+degrees

http://www.e90post.com/forums/showpost.php?p=14803477&postcount=20 (Posted on 10/17/13)

Looks good and runs good

Review by

gotchuckz

I bought the vrsf 7" fmic a couple of months. it looks good and runs good.

http://www.e90post.com/forums/showpost.php?p=14806391&postcount=24 (Posted on 10/17/13)

Been running mine for 4 months or so and love it

Review by

dsjr2006

I've been running mine for 4 months or so and love it. Only issue is it doesn't get fully exposed to airflow with my current E90 Pre-LCI front bumper. M3 rep should remedy that though.

http://www.e90post.com/forums/showpost.php?p=14806518&postcount=25
(Posted on 10/17/13)

7" FMIC VRSF 135i

Review by

N54Guy

Front Mount when on great just have to do some trimming if you go with the 7".
Car feels amazing pulls crazy hard down low and holds boost better up high I think.
(Posted on 8/27/13)

I am VERY IMPRESSED

Review by

Jared

I have an 07 bmw 335i e90 Manual, with jb+(100%) solenoid bypass, AFE Cold air scoops, and burger tuners Cpe- dual cone intake. I was tempted to get VRSF DP, but I would need to get a new tune or burger code delete tool, so I went for the intercooler. I am very, very shocked. One the price is not even comparable to any other brand by far!!!!!! Its took a little time to trim plastic, other than that wasn't bad. As soon as car started, and first pull was instant an noticeable power increase, especially mid-high range. The very first pull, you can really notice. I am so impressed, not sure power the car is making, but it make it pull super hard and after run after hard run, it doesn't let up at all, only to pull even harder each run. Customer service was great, got email back within a half-day when asking questions. I live in upstate NY, so the box was at my door in a couple days literally. Thanks again for the great products VRSF. Cant wait for the DP! ~Jared~ (Posted on 8/5/13)

VRSF cant be beat.

Review by

135Pats

My 7" VRSF FMIC went in yesterday without a hitch, my mechanic said that the trimming was fairly modest, and fitment was very good. Id agree with whats been said, the power gains aren't apparent until 4-5k revs, but the engine feels much smoother and repeated pulls felt very strong on the butt dyno. For the price VRSF cant be beat.

http://www.1addicts.com/forums/showpost.php?p=12880088&postcount=9 (Posted on 12/27/12)

I'm really happy with my purchase

Review by

SfValley335i

I recently purchased a VRSF 7" intercooler for my 135i. The purchase was quick and smooth, I had the intercooler shipped to my buddies house since thats where I planned to do the install. I opted for the free shipping and received it in 6 days (West coast). The intercooler was packaged really well, it was wrapped in bubble wrap, it had hard foam all around and then popcorn. The supplied hardware included quality t-bolt clamps, mounting brackets and thick hoses.

I've had experience with Helix intercooler back in 2008, I had Long tran aka LTBMW do the install but failed because the intercooler was not a good fit. Eventually after a few phone calls to Helix, they refunded me some money and I had to do a lot of trimming/modifications to make their intercooler fit. The Helix intercooler did work great once it was installed and helped me break 400whp.

The install on the VRSF intercooler is pretty straight forward. You need to trim off a few plastic pieces and the intercooler slips right in. I did not remove the bumper off my 135i, nor did I have to adjust/move the radiator fan.

After the install of the VRSF IC, I can say the engine has a deeper sound, the car pulls better than it did with stock IC but best and most important part of all, is that after numerous runs from a stop the car continues to pulls hard. I will get logs this week once the weather warms again. I took logs of the stock IC when the temp was in the 80s.

Comparing the VRSF IC to the Helix IC I had previously, going off memory, I can say both feel about the same throughout the power band and dealing with heat soak. I can say for a fact that the Helix IC did weigh more than the VRSF IC.

At the end of the day, I'm really happy with my purchase, I did PM VRSF to ask a few questions prior to purchase and received replies within a couple hours . I do not think you can find a better fitting and functional IC for a cheaper price than the VRSF IC. I without a doubt will make future purchases from them on their exhaust/charge pipe.

http://www.1addicts.com/forums/showthread.php?t=761043&highlight=vrsf (Posted on 12/27/12)

VRSF components have delivered, and the performance increase has been FANTASTIC.

Review by

Bootay

I just had my VRSF 7" FMIC and DPs installed, and it was basically a non-event. They went in easily, no real issues. My mechanic said it was just like pretty much any other DP/FMIC (and he's done plenty), the DPs fit well and he only had to trim a little bit of the shroud for the FMIC and it's very securely mounted. We had to adjust DPs once after road testing showed it was hitting subframe a tiny bit and causing massive vibrations in the cabin at low speeds, otherwise as plug and play as this stuff gets. Also dropped in the BMS DP Fix and that seems to be working great, but a few more miles are needed before I'm sure it won't pop codes.

WOT produced HUGE grins, the car feels very close to my old JB4/Meth setup, as expected from FBO. The throatier sound under heavy acceleration is great, as is stock-like sound under less than WOT.

I'm not into having any compromises on my car, as it not only has me driving around aggressively, but I also carry kids to school and ferry customers to lunch and my wife even drives it. I can't have odd noises, rattles, or reliability issues. So far, the VRSF components have delivered, and the performance increase has been FANTASTIC.

http://www.n54tech.com/forums/showthread.php?t=17106 (Posted on 12/27/12)
Write Your Own Review
Product Tags
You may also be interested in the following product(s)