The Muse Motorsports small battery tray is designed to work with any of the popular small batteries along with any aftermarket intercooler pipe setup on the market. When combined with a small battery, this tray helps to eliminate weight while freeing up valuable space in the engine bay.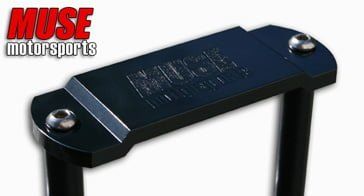 Battery tray is available either in a Polished or Anodized Black finish. We also offer the Odyssey PC680 Dry Cell battery to go along with the battery tray for an additional $117.99. All battery trays include positive & negative terminals.
Click here to check out one of many great Muse product reviews on evolutionm.net!
Application: 2003 – 2006 Mitsubishi Lancer Evolution 8 & 9
Warranty: Lifetime "No Hassle" Warranty & Unlimited Support